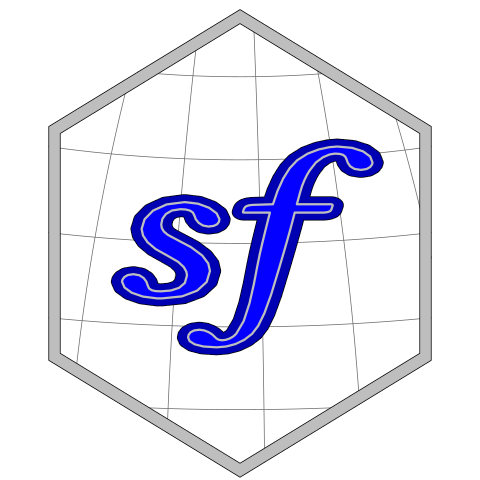 Simple Features for R
Source:
PROPOSAL.md
Applicant: Edzer Pebesma, Institute for Geoinformatics, University of Muenster, Germany; edzer.pebesma@uni-muenster.de
Supporting authors: Edzer Pebesma, Roger Bivand, Michael Sumner, Robert Hijmans, Virgilio Gómez-Rubio
Simple features is an open (OGC and ISO) interface standard for access and manipulation of spatial vector data (points, lines, polygons). It includes a standard SQL schema that supports storage, retrieval, query and update of feature collections via a SQL interface. All commonly used databases provide this interface. GeoJSON is a standard for encoding simple features in JSON, and is used in JavaScript and MongoDB. Well-known-text (WKT) is a text representation of simple features used often in linked data; well-known-binary ([WKB] (https://en.wikipedia.org/wiki/Well-known_text)) a standard binary representation used in databases. Simple Feature Access defines coordinate reference systems, and makes it easy to move data from longitude-latitude to projections back and forth in a standardized way.
GDAL is an open source C++ library for reading and writing both raster and vector data with more than 225 drivers (supported file formats, data base connectors, web service interfaces). GDAL is used by practically all open source geospatial projects and by many industry products (including ESRI's ArcGIS, ERDAS, and FME). It provides coordinate transformations (built on top of PROJ.4) and geometric operations (e.g. polygon intersections, unions, buffers and distance). Standards for coordinate transformations change over time; such changes are typically adopted directly in GDAL/PROJ.4 but do not easily find their way into R-only packages such as mapproj.
Since 2005, CRAN has package sp which provides classes and methods for spatial (point, line, polygon and raster) data. The approach sp takes is similar to how xts and zoo handle the time index of time series data: objects store spatial geometries separately from associated attribute data, matching by order. Package spacetime, on CRAN since 2010, extends both sp and xts to handle data that varies over both space and time.
Today, 221 CRAN packages depend on, import or link to sp, 259 when including Suggests; when including recursive dependencies these numbers are 376 and 5040. The implementation of sp does not follow simple features, but rather the practice used at the time of release, following how ESRI shapefiles are implemented. The cluster of packages around sp is shown in Andrie de Vries' blog on CRAN's network structure in green.
Off-CRAN package rgdal2 is an interface to GDAL 2.0, which uses raw pointers to interface features, but does not import any data in R, using GDAL to handle everything. CRAN Package wkb, contributed by Tibco Software, converts between WKB representations of several simple feature classes and corresponding classes in sp, and seems to be needed for Tibco software purposes.